I was really excited to try this brand, Polish Yer Hooves, because I grew up across the street from cows. So I would like to thank my friend Elise,
From Lips to Tips. .. Mommy Style!
for letting me know about the opportunity to do a review.
The first color I decided to review is Dance of the Sugar Plum. It is a really beautiful color shifter that at first looks purple, but then you can see it shifting from pink to blue.
To bring out the duochrome nature of this polish, I used 2 coats of it alone on my pinky, middle fingers and thumb, and I used it over black (2 coats again) on my ring and pointer fingers. I also used a topcoat of Seche Vite to smooth it out. I used a basecoat of Rejuvacote because my nails have been having a really rough time with the weather, but a different basecoat may make this polish easier to apply.
With flash
Without flash- the nails with the black undies show more of a blue tint.
I had a little topoat shrinkage that is showing some black around the edge- my apologies. I think my pinky, middle, and thumbnail look better, but again, I wanted to show the contrast.
You can see a little bit of the shimmer in this picture, but there is a lot more in real life.
This color is called Miss Bessie. I got the Vanilla Lavender scent. I think the vanilla scent is more prominent, because my nails smell sweet. Unlike some scented polishes I've recently read about, you don't have to wait for your nails to dry to smell it. You can smell it while you are painting your nails!
The polish itself is a really pretty. I'd say somewhere between maroon and burgundy depending on the lighting, with a very sparkly scattered holo. This is 2 coats with HK Girl topcoat. You could get away with 1 coat but you might have a little bit of visible nail line.
Leigh Anne sent me some really cool holo hearts and flowers, so I decided to do an accent nail with them.
Both pictures are with flash
Here are pictures of the adorable bottles: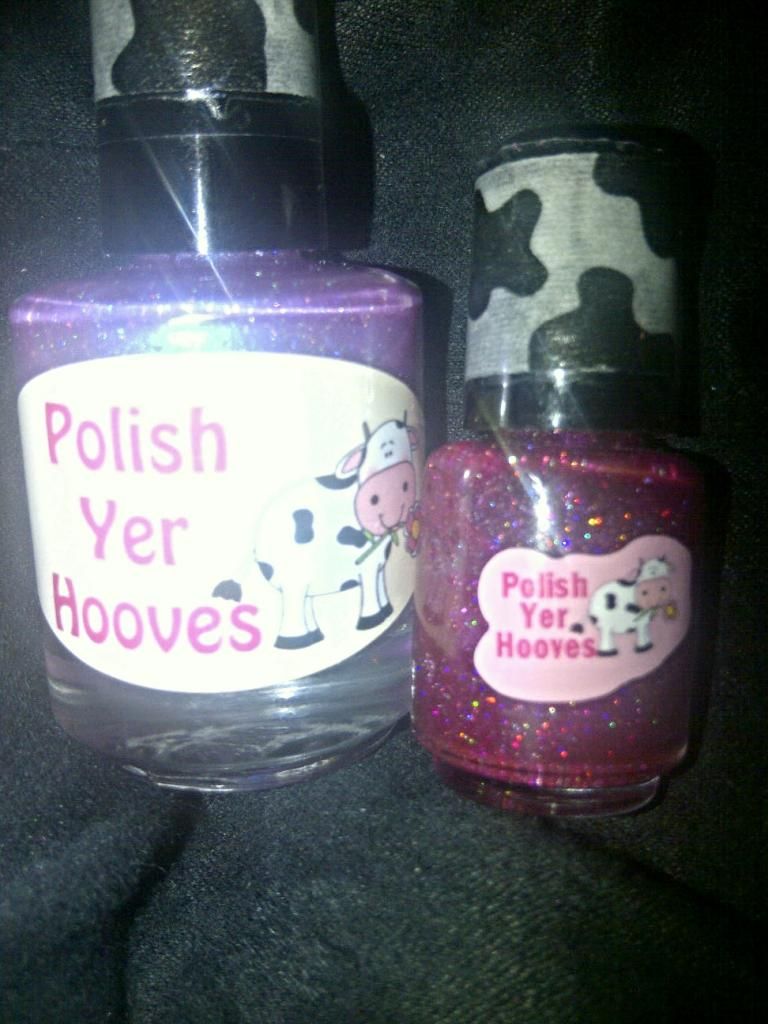 The mini bottle is one from the Star Grazers set, which is currently on sale 3 for $11!
You can buy Polish Yer Hooves at Leigh Anne's Etsy shop
here
.